CoD Cold War – MP OPEN BETA Vroegtijdige toegang
Door   

 Ingo   

Sir_Magnetron
Activision heeft de data voor de open bèta- en vroege toegangsfasen van Call of Duty Black Ops aangekondigd: Cold War.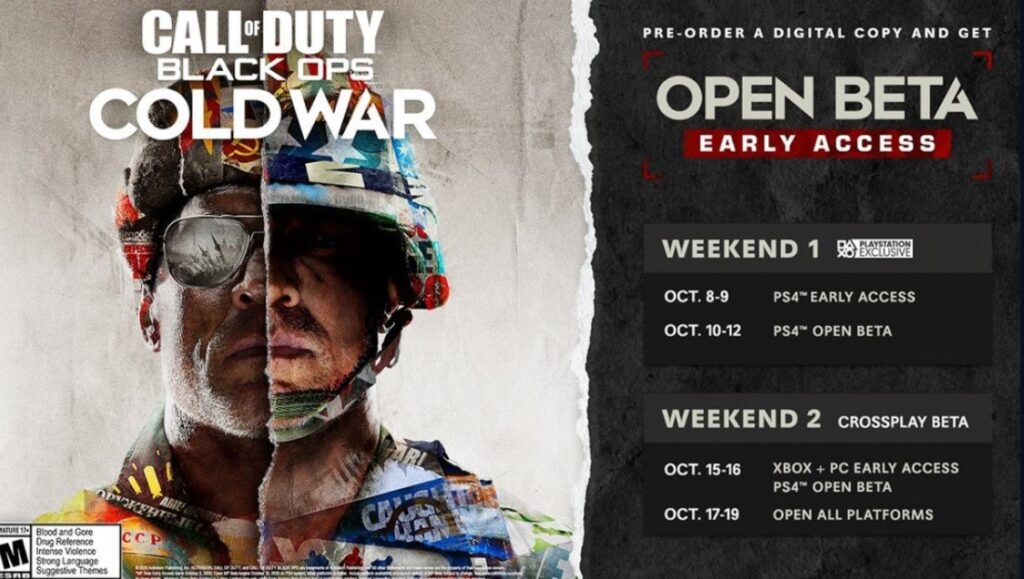 De nieuwe CoD offshoot, die op 13 november wordt uitgebracht, krijgt zichtbaar vorm. Activision en Treyarch introduceerden op woensdag (09.09.) de multiplayer mode.
Daarnaast zijn er al uitgebreide inzichten in de story mode, met betrekking tot de verschillende edities en de overgang van Warzone en Modern Warfare naar Cold Warfare.
Daarnaast liggen de data voor de Open Beta – spelers die niet vooraf hebben besteld voor de Cold War kunnen ook meedoen – en de klassieker Early Access staan nu vast.
Het eerste weekend is exclusief gereserveerd voor PLAYSTATION 4 spelers.
---
---
Belangrijk: Alleen vooraf bestelde digitale versies van de Cold War komen in aanmerking voor de bèta. Als u een fysieke kopie heeft besteld, heeft u geen toegang tot de bèta.
OPEN BÈTA EN VROEGE TOEGANG VOOR THE COLD WAR
---
Weekend 1 – PlayStation Exclusief
OCTOBER 8-9:
PS4 Vroegtijdige toegang (pre-order)
October 10-12:
PS4 open bèta (voor PlayStation Plus-bezitters)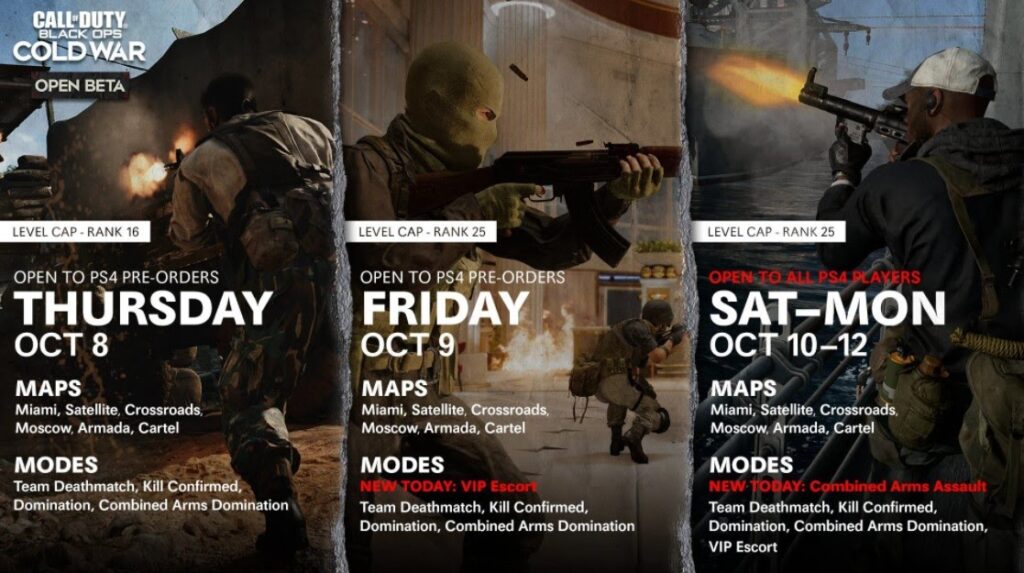 Weekend 2 – Crossplay Beta
OCTOBER 15-16:
Xbox One en PC Early Access (voorbestelling), PS4 Open Beta (PS Plus vereist).
OCTOBER 17-19:
Open beta op alle platforms (Xbox Gold of PS Plus vereist).
C0D BÈTA-INHOUD VOOR THE COLD WAR
---
Met de verschillende bèta's in aantocht, hebben Activision en Treyarch nu verdere details aangekondigd over wat de fans kunnen verwachten tijdens die data.
De Black Ops Cold War bèta zal spelers exclusieve toegang geven tot het spel, samen met extra inhoud voor de lancering op 13 november. Inbegrepen zijn Gunsmith aanpassing, operator selectie, en een verscheidenheid aan spelmodi zoals hieronder beschreven:
Team Deathmatch

Dominion

VIP Escort

Kill Confirmed

Combined Arms
In de Call of Duty: Black Ops beta speel je onder andere het Map Cartel, dat je meeneemt naar de jungle van Nicaragua. De kaart biedt mogelijkheden voor zowel korte- als langeafstandsgevechten. Het open, centrale gebied van de kaart belooft gevechten vol actie.
Ook inbegrepen: de VIP Escort modus, ontworpen voor 6v6 gevechten. Hier glijdt een speler in de rol van de VIP met verdedigers die de VIP proberen te beveiligen binnen een bepaalde zone.
Ook bevestigd is de Combined Arms and Firearms mods, met twee teams van 12 en teams van maximaal 40, respectievelijk.
De bètafase wordt geleverd met een levelsysteem, waardoor je de rangen kunt beklimmen en kunt opklimmen, wat betekent dat je vroege beloningen kunt ontgrendelen.
Klassieke modi zoals Team Deathmatch, Domination en Position worden ook beschikbaar gesteld.
Je vindt meer informatie over Call of Duty Black Ops – Cold War, inclusief informatie over voertuigen, wapens, kaarten, scorestreaks, updates, wapensmid, beweging, bugfixes en patchnotes op THE JOURNEY FROM ALPHA TO BETA, die rechtstreeks verkrijgbaar zijn bij Treyarch.
CALL OF DUTY BLACK OPS – COLD WAR BETA GAMEPLAY EN IMPRESSIES
---
---
Ingo

Ingo is snel! Studeerde e-commerce en heeft zijn roots vooralsnog in het levendige Duitsland. Tegelijkertijd staat hij als ambitieuze influencer-consultant dicht bij game communities & game-ontwikkelaars. Hij weet vaak welke trends er op dit moment gaande zijn. Ingo heeft een bijzondere fascinatie als game review editor.