Twitch Streamer Partnerschapsprogramma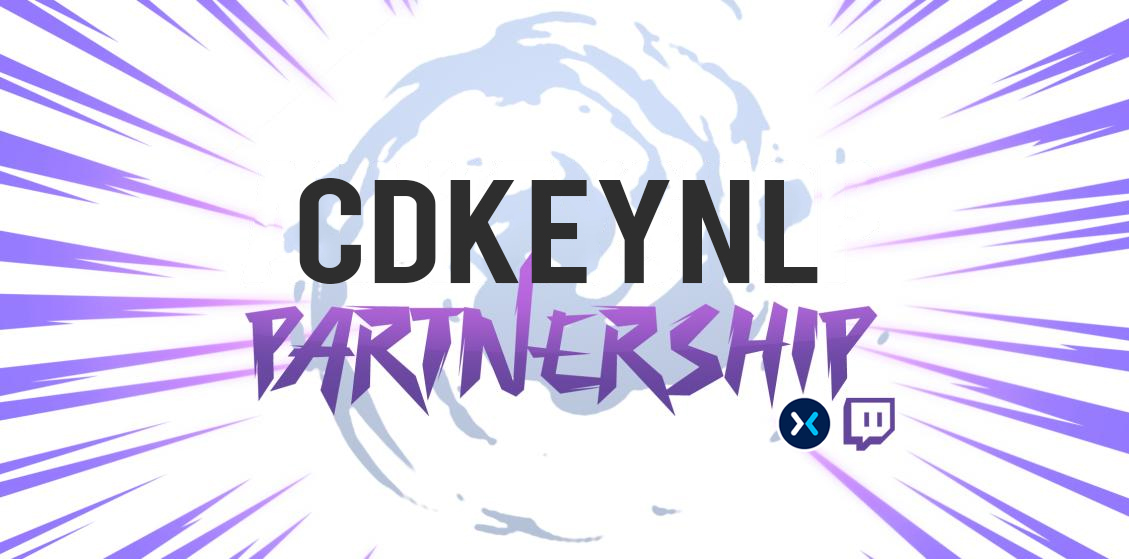 GIVEAWAYS VOOR UW KIJKERS OP ONZE WEBSITE CDKEYNL.NL
Laat Uw community gratis games winnen.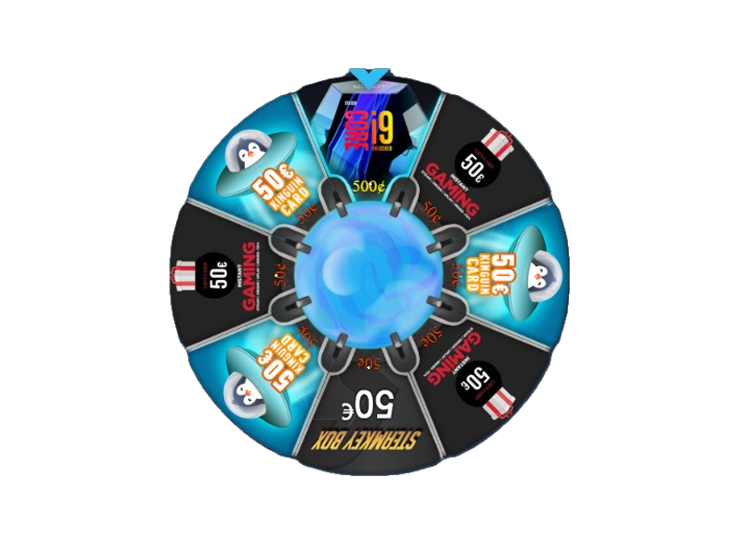 De registratie voor de giveaway is simpel en snel, deelnemers hoeven alleen maar een account aan te maken op de site (verbinding mogelijk met Twitch, Google, Facebook en Steam).
Draai het wiel en het systeem zal de prijs en winnaar trekken uit alle deelnemers.
DETAILS VAN HET PARTNERSCHAPSPROGRAMMA
Wanneer ze meedoen, ontvangen de streamer partners een aantal munten voor giveaways, afhankelijk van hun vorige maandelijkse gemiddelde kijkers: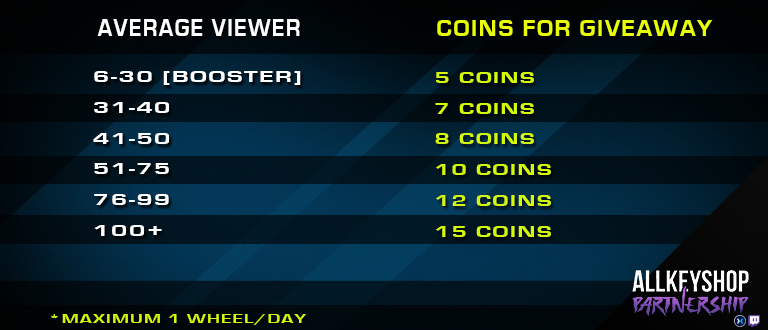 "Gebruik deze munten om giveaways te maken voor Uw kijkers."
In uw giveaways, voor elk persoon dat meedoet, zal de streamer beloond worden met 0,10 munten per gebruiker geregistreerd op het wiel of 0,20 munten voor de streamers met minder dan 31 gemiddelde kijkers in de vorige maand. De Booster bonus is er om de kleine streamers te ondersteunen en te laten groeien, en blijft zo lang als de streamer onder de 31 gemiddelde kijkers heeft.
Voorbeeld beloning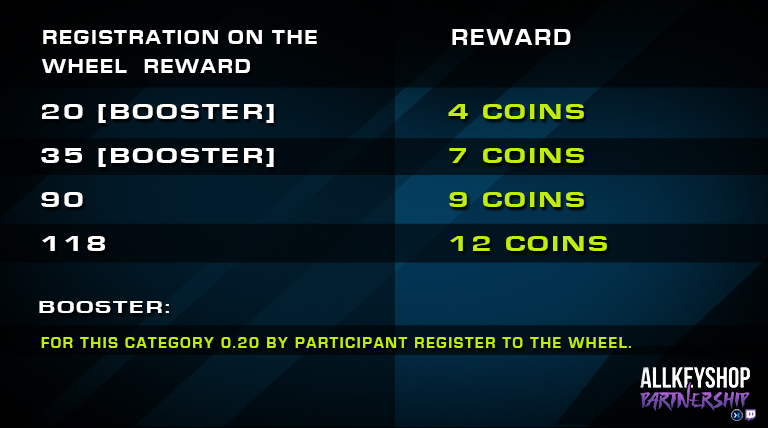 "Gebruik deze munten om grotere giveaways te doen en games voor Uzelf te claimen"
Het enige wat U hoeft te doen is het wiel in 1 van Uw livestreams te draaien en dat minimaal 1 keer per maand.
Ook bieden we U een partner-banner voor uw stream-profiel (U kunt het ook personaliseren), en U krijgt een extra 0,05 munten voor elke unieke dagelijkse klik erop.
HOSTING OP DE SPELPAGINA (VIDEO-EMBED)
Zodra U partnerschap behaald, bieden wij U ook de mogelijk om te worden gehost op deze site waneer U live gaat.
Uw stream wordt dan in plaats van de Allkeyshop TV wordt gebruikt.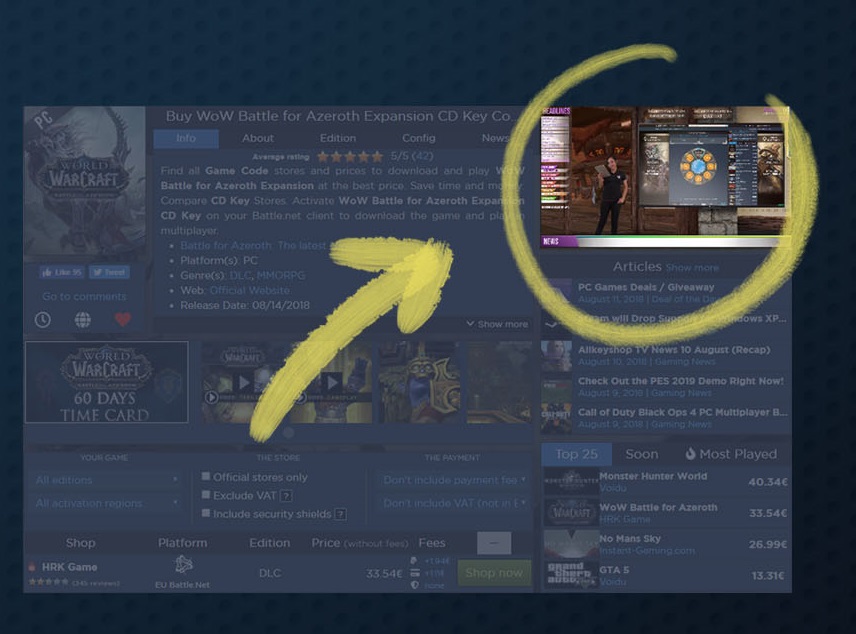 WORDT EEN PARTNERSHIP AMBASSADEUR
Als U eenmaal een partner bent en alles hebt begrepen waar het over gaat, bieden we U ook de mogelijkheid om 3 actieve affiliaties te maken.
Dat betekent dat U Uw eigen partners hebt binnen onze partnership-programma en dat U elke maand 5% van de munten krijgt die ze via hun wielen hebben gedraaid.
U zult hen het partnerschap moeten leren en U zult de directe band tussen ons en hen zijn.
Voorbeeld: De streamer die U heeft aanbevolen heeft in de afgelopen maand een totaal van 1000 munten verdiend, dan krijgt U aan het begin van de volgende maand 50 munten uitbetaald.
WAT KUNNEN MIJN KIJKERS EN IK WINNEN?
Huidige beloningen beschikbaar:
Verschillende soorten aankoopbonnen: Kinguin Cards, 2Game Cards, HRK Cards, Gamesplanet Cards, Gamivo Cards
Random Steam Games
Jackpot prijzen: Xbox One X, PS5, Nintendo Switch, Intel Core i9 9900K, Geforce RTX 2070 Super, Amazon Giftcard, Oculus Rift S
HEEFT U MEER VRAGEN?
Maak je geen zorgen! We hebben ook F.A.Qs:
HOE KAN IK MEEDOEN?
Als u geïnteresseerd bent, stuur ons dan een e-mail of neem contact op met onze ondersteuning met behulp van de groene "HELP" knop rechtsonder.