NBA 2K20 officiële Soundtrack Lineup onthuld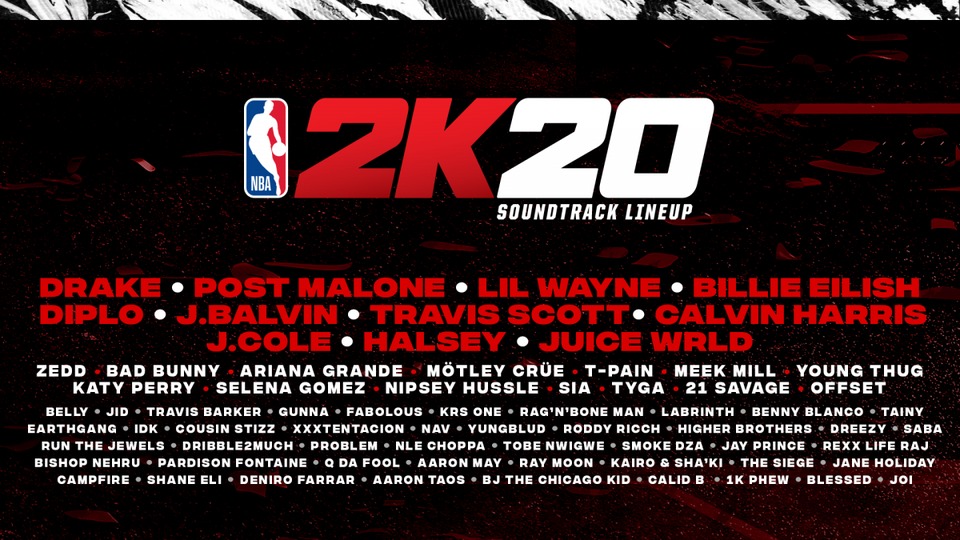 2K heeft zojuist de tracklist van de officiële soundtrack van de NBA 2K20 onthuld. De lijst bevat bijna 50 singles met grote artiesten als Drake, Lil Wayne, Halsey, Ariana Grande, Katy Perry, Zedd en nog veel meer. Het is de grootste selectie voor een vermelding in de franchise tot nu toe.
---
---
De tracks werden geselecteerd door 2K en gevalideerd door UnitedMasters. Je kunt de volledige soundtrack bekijken en zelfs beluisteren via deze afspeellijst op Spotify.
UnitedMasters heeft ook onthuld dat de soundtrack niet definitief is. Er zullen nog tien nummers worden toegevoegd gedurende het NBA-seizoen, elk afkomstig van een wereldwijde competitie die bedoeld is om originele nummers van nieuwe artiesten te vinden. Als je mee wilt doen aan de wedstrijd, kun je hier je inzending indienen. De wedstrijd gaat van start op 1 augustus.
We announced big #NBA2K20 news @ComplexCon

🚨The 2K20 Soundtrack is live and will be updated during the year 🚨Submit your music for a chance to be featured on the soundtrack through the United Masters App. Starts 8/1 🚨New gear is coming pic.twitter.com/HarI5NACpT — NBA 2K20 (@NBA2K) July 21, 2019
We kondigden groot #NBA2K20 nieuws aan @ComplexCon…
The 2K20 Soundtrack is live en wordt gedurende het jaar bijgewerkt.
Submit uw muziek voor een kans om op de soundtrack te komen via de United Masters App. Begint 8/1
New versnelling komt eraan pic.twitter.com/HarI5NACpT
– NBA 2K20 (@NBA2K) 21 juli 2019
De oprichter van UnitedMasters, Steve Stoute, zei: "NBA 2K is uitgegroeid tot een middelpunt van cultuur en sport voor de gaming-gemeenschap, waarbij de soundtrack een belangrijke rol speelt in het succes ervan". Stoute voegde eraan toe dat UnitedMasters onafhankelijke artiesten de kans zal geven om ontdekt en in de soundtrack van het spel te worden opgenomen.
NBA 2K20 lanceert 6 september voor PC, Xbox One, PlayStation 4 en Switch.
---