Top PC spelletjes worden uitgebracht voor februari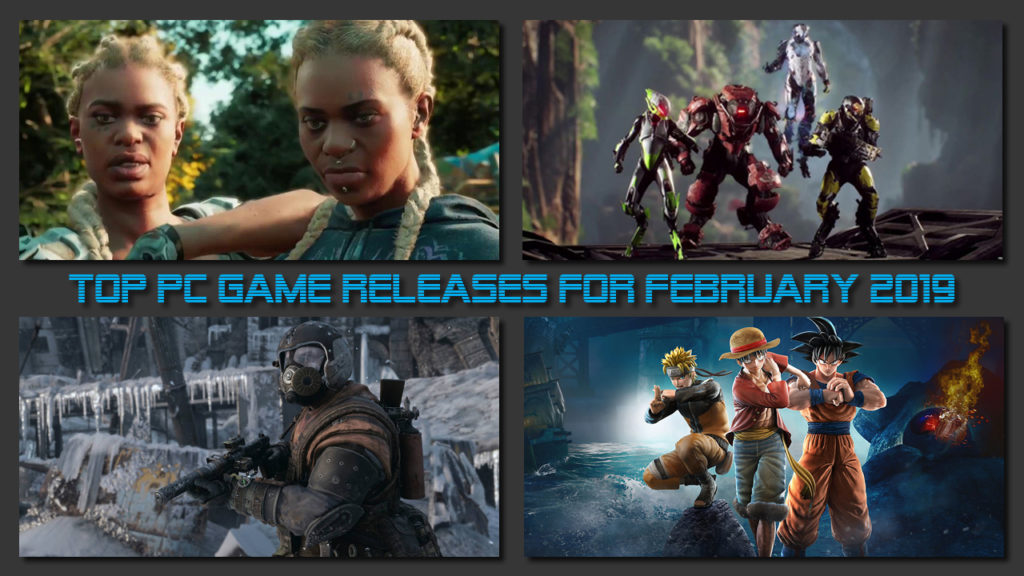 Als u een paar van de komende spelletjes dit jaar hebt gevolgd, dan weet u dat er in februari het meest wordt uitgebracht. Het maakt niet uit wat voor soort spelletjes u speelt, in deze maand wordt u erg enthousiast hierdoor. En zo zijn hier de beste pc-game-releases voor februari 2019, samen met onze beste deals voor elke game.
---
GROOTSTE RELEASES VAN FEBRUARI 2019 OP PC
---
---
Kwaliteit luchtfoto luchtgevecht sims zijn zeldzaam, maar Ace Combat is een legende in het genre. De nieuwste aflevering brengt spelers terug naar Strangereal – een alternatieve wereld gebaseerd op de realiteit maar doordrenkt van Ace Combat Lore. Skies Unknown heeft verbluffende graphics en schitterende verlichting, een overweldigend audio-ontwerp, een combinatie van echte en futuristische vliegtuigen en spannende realistische luchtgevechten. Het biedt ook een solide campagne met een aangrijpend verhaal. Vluchtsimfans zullen dit zeker niet willen missen.
---
---
De God Eater-serie van Bandai Namco is altijd al een populaire keuze geweest voor mensen die van de formule van Monster Hunter houden, maar die anime-beelden willen combineren met hun monster-moordervaring. God Eater 3 zet die traditie voort. Stel in een post-apocalyptische wereld overspoeld door monsterlijke god-achtige wezens genaamd Aragami, spelers nemen de rol van tiener krijgers met enorme wapens genaamd God Arcs, het enige wapen dat een Aragami kan verslaan. Er zijn veel nieuwe functies in het derde optreden, waardoor gevechten nog spannender worden.
---
---
Civilization 6 krijgt deze maand zijn tweede uitbreiding. Gathering Storm breidt wijd de strategische overwegingen voor spelers uit aangezien het natuurrampen in spel brengt. Spelers zullen de voor- en nadelen van het settelen in de buurt van risicovolle tegels zoals vulkanen en rivieren moeten afwegen. Wereldwijd klimaat zal ook worden geïntroduceerd, waarbij de opwarming van de aarde de kans op overstromingen en het verhogen van de zeespiegel vergroot. Het wereldcongres en diplomatieke overwinningen maken ook een comeback, plus er zijn 8 nieuwe civs en 9 nieuwe leiders om mee te spelen
---
---
Na een aantal vertragingen, op straffe van een last-minute hap, zullen we uiteindelijk de langverwachte Crackdown 3 spelen. Helaas, en nee dankzij het gebrek aan recente promotie, kan de hype-trein voor de open-wereld sandbox-shooter van Sumo Digital lang zijn. uitgestorven. Toch belooft het veel vernietiging en vermakelijke vuurgevechten, over-the-top actievolle multiplayer-matches en een futuristische open wereld vol met dingen om je bezig te houden. Het is ook een Play Anywhere-titel, goed nieuws voor degenen die games spelen op zowel een pc als een Xbox One.
---
---
Het einde van Far Cry 5 liet voor velen een slechte smaak achter gezien hoe onbetekenend alles wat je in de game deed achteraf voelde. Dat is waarschijnlijk de reden waarom Ubisoft het het beste vond om spelers de kans te geven om 17 jaar nadat het allemaal was opgeblazen terug te gaan naar Hope County. Bouw je thuisbasis op, vecht tegen vijanden om waardevolle bronnen en neem het op tegen de meedogenloze Twins en hun bende, de struikrovers. Ook kan het kleurenpalet u doen denken of Ubisoft ooit enig promotiemateriaal voor Rage 2 heeft gezien.
---
---
Als Dragon Ball FighterZ 2D, kunt u het spel niet meer aanraken, dan kan Jump Force u de anime-vechtfixatie geven waar u naar op zoek was. Vreemde wezens, Venoms genaamd, hebben slechteriken uit uw favoriete manga-serie en anime-shows verzameld en meegenomen naar de echte wereld om grote schade aan te richten. Nu hebben Luffy, Goku, Naruto en andere Jump-helden zich aaneen gestrengeld om ze te stoppen. Het resultaat is een van de grootste en meest diverse crossovers in het bestrijden van gamegeschiedenis.
---
---
Hoewel de last-minute beslissing van Deep Silver om Steam en Go Epic-exclusief te ontmantelen tot controverse heeft geleid, valt niet te ontkennen dat Metro Exodus nog steeds een van de meest verwachte games van het jaar is. Exodus laat spelers de pseudoveiligheid van de Metro-tunnels verlaten en een langlaufavontuur beleven op zoek naar een nieuw begin. Het on-the-fly wapenmodeschema voegt wat tactische diepte toe terwijl de buitenomgeving zorgt voor een leuke afwisseling van het landschap voor de verhaal gestuurde schieter.
---
Anthem — 22 February
---
De grootste uitgave van BioWare in jaren is ook hun grootste gok in jaren. Met de matte ontvangst van Mass Effect Andromeda en niet te vergeten de slechte reputatie van EA tegenwoordig, hebben de ontwikkelaars hier veel mee te maken. Een positieve opmerking, alles wat we tot nu toe van de game hebben gezien, was indrukwekkend. Bovendien is het feit dat alle toekomstige inhoud gratis is en microtransacties alleen nog maar in de cosmetica zijn, absoluut een aantrekkelijk aanbod voor fans van het shooter-genre. Dus, is dit EA's grote Destiny-moordenaar? We zullen af moeten wachten.
---
---
Neem het op tegen een andere motorfietsuitdaging die perfect is voor zowel ""gewoon-op-een-niveau-voor-ik-uit-gaan"" en ""ik-niet-sta-op-tot-ik-klaar-voor-deze"" doorvoer. Trials Rising laat u door puzzels op basis van fysica gaan die slim zijn ingebed in uitdagende motorcrosscursussen die fans van platformers, puzzelspellen en racegames zullen aanspreken. Daag vrienden uit in lokale of online multiplayer-races of werk samen met een vriend terwijl u elk een wiel op een enkele fiets bestuurt om speciale uitdagingen te overwinnen.
---
---
Als u de voorkeur geeft aan snelheid en techniek over het oplossen van puzzels in uw racespellen, dan wilt u misschien Dirt Rally 2.0 ophalen. Het vervolg heeft iconische, real-life nummers van over de hele wereld, schitterend opnieuw gemaakt met prachtige omgevingen en realistische tractie en handling op het oppervlak. Kruip achter het stuur van meer dan 50 krachtige off-road voertuigen en stem ze af op uw rijstijl en de vereisten van elk circuit. Neem het op tegen de singleplayer Career-modus of test uw vaardigheden tegen vrienden en andere spelers online.
---
En dat zijn de beste pc-game-releases voor februari 2019. Dit is één van de zwaarste maanden dit jaar in termen van grote releases, dus er zou een game moeten zijn voor elk Speler in deze lijst. Zodra u een keuze heeft gemaakt, moet u onze deals voor elke game bekijken, want het zal moeilijk voor u zijn om een betere deal op het web te vinden. Proost!