PC Gaming: Deze week in trailers (Mei — Week 2)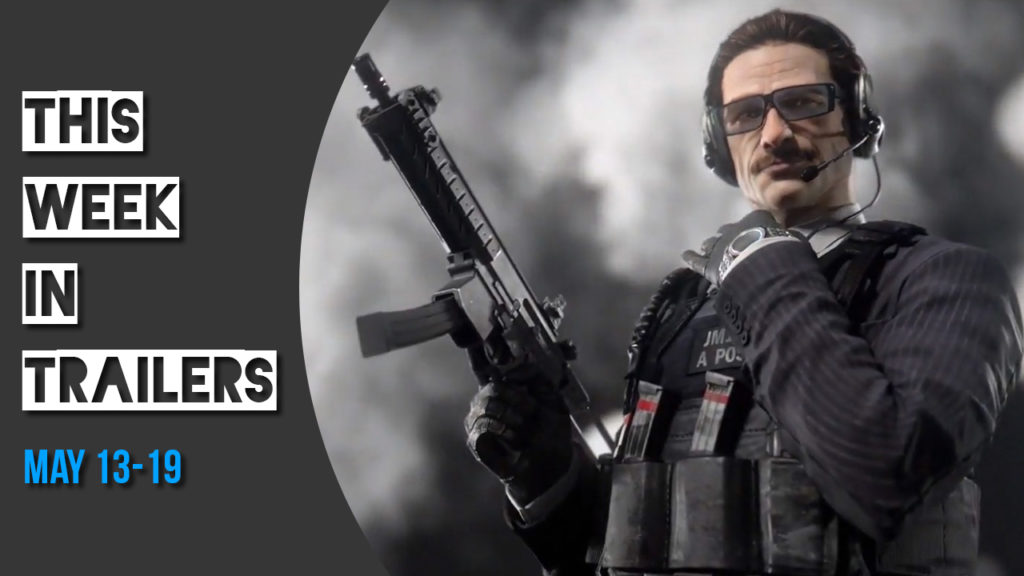 Trailers waren deze week een beetje schaars in de wereld van pc-gaming. Toch waren we in staat om een paar te verzamelen die de fictie van gamers zouden moeten raken, ongeacht het soort games waar ze in zijn. Dus, zonder verder oponthoud, hier is deze week in trailers:
---
Rainbow Six Siege — Operation Phantom Sight: Warden Trailer
---
Ubisoft heeft een voorproefje vrijgegeven voor de nieuwe verdediger die naar Rainbow Six Siege kwam in de aankomende Year 4 Season 2-update. Warden is uitgerust met Glance Smart Glasses en straalt een zeer James Bond-achtige vibe uit, behalve dat de legendarische spion waarschijnlijk wenst dat hij een snor kan laten groeien die even glorieus is als die van Warden.
---
Hearthstone — The Dalaran Heist Overzicht
---
Hearthstone's nieuwste uitbreiding, Rise of Shadows, voegt een nieuw singleplayer-avontuur toe genaamd The Dalaran Heist. De modus is live gegaan en Blizzard heeft een nieuwe overzichten trailer uitgebracht waarin enkele dingen worden besproken die spelers zouden mogen verwachten wanneer ze het avontuur in de stad stelen.
---
Total War THREE KINGDOMS — Liu Bei Launch Trailer
---
Total War Three Kingdoms will be launching next week and Sega and Creative Assembly have pre-emptively released the game's launch trailer. The short video focuses on Liu Bei and the friendship and loyalty he receives from his people. These enable him to go toe-to-toe with his enemies on the battlefield.
---
Castlevania Anniversary Collection — Lanceer Trailer
Als u zich nostalgisch voelt, is het misschien interessant om te weten dat Konami deze week de Castlevania-jubileumcollectie heeft uitgebracht. De collectie brengt 8 klassieke titels uit de serie terug waarmee fans op moderne platforms kunnen genieten. De collectie bevat ook een gratis eBoek waarin de geschiedenis van de serie wordt getoond.
---
Vampire The Masquerade Bloodlines 2 — Clan Introductie: Toreador
---
Deze week kregen we een voorproefje van de derde clan van Vampire The Masquerade Bloodlines 2 – de Toreador. Deze mooie bloedzuigers houden erg van goede kunst en uitstekende wijn. In de strijd geven ze de voorkeur aan snelheid en flair en hebben ze zelfs het vermogen om een kamer vol stervelingen te charmeren om hun biedingen uit te voeren.
---
World of Warcraft — Safe Haven Cinematic
---
Terwijl internet bezig is met de bèta-lancering van World of Warcraft Classic, liet Blizzard een nieuwe film zien waarin de terugkeer van Thrall werd geplaagd. De film is een lust voor het oog en getuigt van de legendarische vaardigheden van degenen die bij Blizzard verantwoordelijk zijn voor het maken van deze korte films.
---
Trine 4 — Modus Indie Access #1: Making the Series
---
Deze is niet echt een trailer, meer een echt dagboek. In de eerste aflevering van wat naar alle waarschijnlijkheid een serie zou zijn, vertelt Modus Games wat ze nodig hadden om Trine terug te brengen naar zijn roots voor de vierde aflevering. Er is ook sprake van een Ultimate Collection, wat de perfecte manier zou moeten zijn voor nieuwkomers om in de serie te komen.
---
Oddworld Soulstorm — Eerste Teaser Trailer
Oddworld Inhabitants heeft ons onze eerste blik op Oddworld Soulstorm gegeven, compleet met een beetje gameplay. Soulstorm is een uitgebreide remake van de tweede game in de serie – Oddworld Abe's Exodus. Deze keer zullen de ontwikkelaars echter de originele visie voor het vervolg front en -centrum brengen.
---
En dat is het deze week in trailers. We zullen je volgende week weer zien voor nog een dosis van de meest opvallende trailers om uit te komen in de wereld van pc-gaming. Proost!
---
OOK OP CDKEYNL NIEUWS
---
| | |
| --- | --- |
| | Deze week in trailers had een hoop nieuwe verrassingen. Van nieuwe uitbreidingen tot rare trailers, hier zijn de beste die de week te bieden had. |
---